Finding degrees that don't require math can be a massive advantage for students who aren't the most math proficient.
Struggling with certain school subjects is more common than you think, which is why more prospective college students are looking for degrees with no math.
Below, you'll find all the most popular majors with no math and a few key tips to help you find careers without math in college.
Degrees That Don't Require Math: The Top Picks
Let's explore the top degrees with little math you can enroll in during your studies.
Bachelor of Communications
Communications degrees are booming in popularity, not only because they're one of the only degrees that require no math but because of the job prospects.
As a communications major, you can find work in advertising, marketing, education, and various other mediums.
The central premise of the degree is to teach you in-depth communication skills to help you express a specific thought through visual, verbal, digital, and written formats.
Many students in communications departments move on to become screenplay writers, scriptwriters, and journalists.
A few other popular career options include:
Public Relations
Public Speaking
Social Media
Marketing
As someone asking, "What degree requires the least amount of math?" this is likely one of your top choices.
Instead of math, you'll focus primarily on English with a strong emphasis on psychology, sociology, and worldwide cultural differences.
By the time you graduate, you'll have all the fundamentals to communicate with various target audiences in different industries.
Bachelor of History
History is one of the many degrees without math that students can explore during their time in college.
Aside from the prerequisites required for your major, you'll likely never have to step foot in an algebra or calculus classroom.
With a history degree, you'll embark on a pathway filled with writing, research, and teaching opportunities.
People with historical backgrounds tend to work in government or become teachers, as they know how the world has worked over generations.
You may also work for museums or nonprofits that discover worldwide historical facts.
Undoubtedly, this degree is a fantastic opportunity for learners interested in specialized education.
History is a fascinating major because it spans subjects beyond just looking at historical governance.
You can specialize in law, medicine, science, or even art history.
With these specialties, you can move on to earn an advanced degree which can give you access to even more profitable careers.
Some of the most popular careers for students in history include:
Museum Curation
Public Policy
Politics
Journalism
Ministry
Government
Bachelor of Anthropology
Anthropology is a fascinating career field that's also a popular major without math.
Instead of studying the behavior of numbers, you'll have the opportunity to explore human nature.
Anthropology is likely the best degree without math because it focuses primarily on science, human social organization, and human culture.
With this degree, you'll dive into topics like why humans act the way they do and how humans have acted over the years.
Many students focus on studying human history, such as visiting dig sites and unearthing cultural artifacts and fossils.
While others prefer comparative anthropology, which is more research and data-based as you look into social structures and how cultures are created.
It's the type of career best suited for students who have always had a love for travel and exploring worldwide cultures.
You'll find yourself working independently as well as alongside teams, uncovering fascinating details about civilizations on different continents.
Also, tons of anthropology students make discoveries within their home countries without travel.
As you would expect, an anthropology degree is a home to numerous careers that don't require math, including:
Organizational Psychology
Philosophy
Economics
Scriptwriting
Advertising
Public Policy
Religion
Education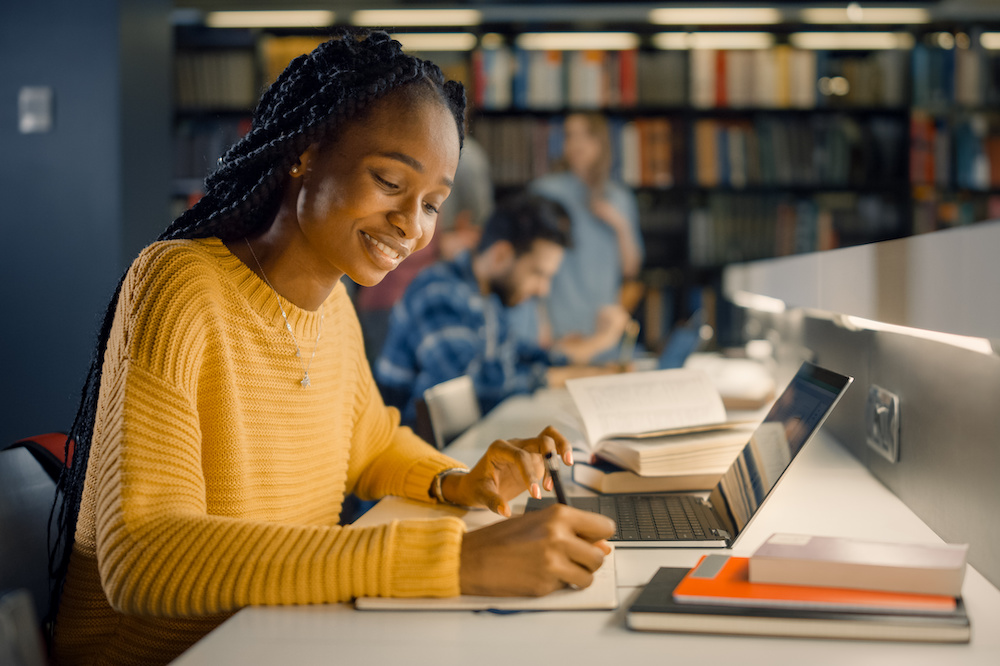 Bachelor of Criminal Justice
Criminal justice is a notable option if you've been hunting for a rewarding and exciting career that includes a bachelor's degree without maths.
That said, you'll have to be careful in your chosen specialty.
For example, forensic science is considerably more math-oriented than becoming a police officer.
With criminal justice, you'll not only have college degrees that don't require math but also a career that will continue to be popular over the coming years.
Like many other majors without math or science, which we've explored in this guide, there are plenty of criminal justice offshoots to explore.
Students can take a more science-oriented approach and become forensic scientists or crime scene investigators.
Alternatively, you can work towards becoming a judge or for your local government, which requires very little math.
Criminal justice is a wide-stretching degree designed primarily for students looking for a career in government, law enforcement, or criminal corrections.
Some of the most popular avenues graduates consider include:
Court Bailiffs
Criminal Investigators
Law Enforcement
Correctional Officers
Government Leaders
Bachelor of English
If you're asking, "What bachelor degree requires the least amount of math?" many students would direct you straight to English.
There's a common conception that English and Math are polar opposites of one another, and in many ways, they are.
English can be a fulfilling career, especially for students that have always been interested in exploring the written word.
During your studies, you'll review some of the most classic pieces of literature the world has known.
You'll also have the opportunity to dive deeper into modern works of art and distinguish the difference between today's writing and the past.
Another major tenet of English is communication, so you can expect to refine your writing and philosophical thinking skills.
It's a fantastic avenue of study for students looking for careers as teachers, journalists, or novelists.
An English degree can even help you get into communications, public policy, and law.
But above all else, it's one of the majors that don't require calculus, making it perfect for students avoiding math.
Bachelor of Human Services
If you're the type of person that loves working with others but is also looking for majors that don't involve math, human service is a great choice.
Whether you work as a human resources manager or as a part of a nonprofit organization, your degree offers plenty of exciting opportunities.
Human services, like many other majors on this list, is a popular avenue of study that is only bound to become more prevalent in the future.
With this degree, you'll be able to work in several industries, such as workforce development, administrative social service, community development, and housing.
It's common for people with human services degrees to work in economics, but as someone uninterested in math, avoiding this avenue is ideal.
Many graduates also move on to find careers in governmental services and nonprofit organizations, thanks to their advanced people skills.
You can get a business degree without math by studying human services, which isn't common.
It gives you the fundamentals you need to work in a white-collar environment for some of the largest company names in the world.
Bachelor of Liberal Arts
Liberal arts is easily one of the most popular degree options for students looking for degrees that don't require calculus or majors that don't require math or science.
That is because a liberal arts degree is everything a math degree isn't. It's creative, open-minded, and very humanistic-oriented.
With this learning pathway, you'll dive into a ton of valuable topics such as religion, foreign languages, history, literature, art, and English.
Liberal arts degrees are often seen as some of the most flexible, encompassing numerous industries.
Depending on your specialty, you can become a historian, a teacher, or even a professional dancer.
The most important thing to note is that you'll have a phenomenal bachelor's or associate's degree without math.
Finding a career with a liberal arts degree depends on the specific field of study you want to enter.
For example, if you specialize in law, you can use your degree to become a legal aid.
Or, if you want to become a teacher, your educational emphasis will be on education.
Bachelor of Occupational Therapy
If you're on the hunt for high-paying degrees without math, occupational therapy is one to keep in mind.
Not only will this degree field help you find a profitable career, but it can also assist you with finding a rewarding job opportunity to help others in your community.
As an occupational therapist, you'll work with patients with cognitive or physical ailments, such as strained or sprained muscles.
The main objective of an occupational therapist is to help your patients' bodies return to their natural or like-natural state without pain.
Many people seek these professionals if they've begun to notice their quality of life has drastically decreased after an incident, such as a car accident.
Occupational therapists then work with clients to address their physical condition, develop a treatment plan, and monitor their progress.
What we love about occupational therapy is it's one of the few science majors that don't require math.
You'll likely dive into biology, psychology, and anatomy, but it's highly unlikely you'll ever have to deal with calculus or algebra.
The central premise of your studies will be to help you better understand how people develop psychologically and physically.
It's also important to note that although this is one of the careers that don't involve math, it does involve plenty of schooling.
Most occupational therapists not only need an undergraduate degree but must also work towards a master's or doctorate before being licensed to treat patients.
Bachelor of Philosophy
When researching what degrees do not require math, philosophy might be one of the first subjects you think of, and for a good reason.
Philosophy is primarily for students that love diving deeper into the human mind, exploring different systems of thought that make humans who they are.
It's a fantastic major that can lead to careers that don't require math or science but will still unlock your mind to several unique topics.
During your studies, you're bound to explore the philosophy of science, morality, metaphysics, politics, social justice, and even medieval philosophy.
It's also important to note your classes will be extremely thought-provoking and require plenty of reading and writing, making philosophy an intense major.
Research is another massive tenet of philosophy, which is something to be prepared for.
Upon graduation, you'll find many career opportunities available to you with a bachelor's in this specialty.
You can get into law, writing, theology, research, or even teaching.
Bachelor of Psychology
Have you always wanted a career that helps others without worrying about science or math?
A bachelor of psychology is one of the high-paying majors that don't require math, especially if you become a practicing clinician or researcher.
With your degree, you'll be able to explore the human psyche to better understand human behavior, desires, and decision-making.
There are plenty of unique branches of psychology that students can dive into, whether it's brain and behavior, sexual health, or even family psychology.
What makes this program phenomenal for students looking for a degree that does not require math is that it doesn't require a doctorate.
In most instances, students can obtain their undergraduate and master's degree to become a practicing psychologist.
Alternatively, you can work in rehabilitation facilities, as a high school counselor, or even in ministry.
Many students suggest psychology is the best subject for open-minded people and psychological thinkers.
You must also be prepared to do plenty of hands-on research, as observational studies are the backbone for the development of psychology.
A few additional examples of popular degree options for students in psychology include:
Behavioral Health
Occupational Health
Mental Health Research
Rehabilitation
Counseling
Psychological Practice
Teaching
Ministry
Research
What Are the Best Degrees That Don't Require Math?
Choosing the best degrees that don't require math isn't as hard as you might think, as you can get bachelor's degrees and an associate's degree without math.
From anthropology to psychology, students can explore several profitable and fulfilling careers without asking, "Does it require math?"
It's time to start applying to some of the top programs in your area of interest to guarantee a spot in a math-free degree program of your dreams.