Finding the easiest PhDs can be a remarkable opportunity for any student looking to further their education.
With a higher degree, you can explore several profitable career options while studying for your dream job.
That said, some PhDs are more challenging and time-consuming than others, making it hard for students to find the right avenue for their studies.
If you're searching for the easiest doctorate or easiest PhD program in your area, this guide is here to help.
We'll briefly review several excellent programs to help you answer, "What is the easiest doctorate degree that I can get my hands on?"
A List of the Easiest PhDs for Students
Let's get right into the list of the easiest PhDs you will find today. They include:
1. Doctorate of Business Administration
Business administration is one of the most popular avenues for students looking for the easiest doctorate degree.
That is because most of your studies will revolve around the fundamentals of business and a specific specialty if you desire.
For example, if desired, you can get a Ph.D. in general business management or opt for a Ph.D. in advanced marketing.
With a business administration Ph.D., you'll explore numerous concepts such as professional ethics, modern business design, and the tools you need to refine business operations.
Many students looking for an easy PhD route love business programs because they open the door to many employment opportunities.
Undoubtedly, most businesses in your area are looking for professionals with a business doctorate.
2. Doctorate of Arts
If you're looking for a versatile degree program, an advanced art degree is one of the easiest doctoral degree options to explore.
Designed for creative-minded individuals, a doctorate of arts helps unlock many doors to artistic careers.
You may find yourself working in the arts or music, or you can also enroll in higher education options for teachers instead of an EdD.
With a doctorate of arts, you're likely to find several programs offered both in-person and online.
Most programs with this title don't require in-person attendance, like medical doctors, and the curriculum is slightly more adaptable to different learning styles.
A few amazing examples of fulfilling careers you can explore with a doctor of arts online include:
Research Associate
Professor
Assistant Professor
Language Arts Teaching
Ceramics Designer
Art Therapist
Advertising Art Director
3. Doctorate of Education
Becoming a teacher can be a fantastic opportunity for students looking to diversify their skills and find a rewarding career.
Teaching young minds makes you one of the contributors to a better future.
You're part of the ins and outs of a unique specialty that fosters a new generation of world leaders and learners.
That said, to find a career worthwhile as an educator, working towards a doctorate in education can make a massive difference.
Education is the easiest PhD to earn because you can work towards it while employed.
In fact, many teachers find that studying and teaching concurrently is a fantastic way to enhance their continuing education, helping to make them more employable.
That said, it's important that you find the perfect program to fulfill your educational requirements.
One of the more interesting elements of a doctorate of education is it comes in many different forms, depending on your specialty.
For example, teachers can earn an EdD in psychology, social justice education, or even educational leadership and policy.
After obtaining your degree, you can continue teaching at your current level with a significant pay raise or choose a more advanced teaching position.
4. Doctorate of Healthcare Administration
If you're asking, "What is the easiest doctorate degree to complete?" healthcare administration is one of your top solutions.
It's a phenomenal program for students who have always had a passion for healthcare without dealing with the in-depth studies of medical doctors.
Instead, healthcare administration focuses primarily on managing hospitals and ensuring everything runs smoothly regarding patient care from the background.
With a doctorate in healthcare administration, much of your studies will strongly emphasize healthcare finances, advanced patient care, hospital policies, ethics, and group management.
You may find yourself in a position to run an entire hospital or be on a board of members working towards running healthcare institutions.
There are many career options for these professionals, including:
Nursing Home Managers
Clinic Managers
Health Information Managers
Hospital Administrators
5. Doctorate of Human Services
For many, working with underserved populations is the ultimate goal for schooling and pursuing your dream career.
With a doctorate in human services, you'll have the advanced knowledge to help others succeed in life in several avenues.
Whether you have experience in rehabilitation or social work, this is a phenomenal advanced degree that's often considered one of the easiest PhD programs to get into.
During your studies, you'll dive into important topics such as human rights, policies, legislation, and ethics when working with underserved populations.
You can also choose from many specialties, whether it be mental health management, rehabilitation, urban city planning, and more.
Also, it's important to note that a doctorate in human services will never become less popular.
As the world changes and families find it more difficult to survive, these professionals are needed more now than ever.
You may work as a community service manager, offering development and job training, or even working in social service.
It's equally as rewarding from an emotional perspective as it can be profitable over time.
6. Doctorate of Public Administration
Have you always been a career-minded individual interested in helping others achieve their full potential in an office environment?
If so, a career in public administration could be the easiest doctorate to get that falls within your skill set.
With a doctorate in public administration, you're most likely to work alongside or run a human resources department.
Alternatively, you may work with managing the overall operations of personnel within a business.
Regardless, it's the type of career designed for professionals who love working with people to enhance the success and productivity of a business.
With your studies, public administration students often review public policy, strategic planning, and management ethics.
It's also likely you'll become well-trained in economics, conducting employee evaluations, managing the performance and expectations of staff, and more.
There are numerous careers to unlock with a doctorate of public administration, including:
Budget Analyst
Human Resources Manager
Health Services Manager
7. Doctorate of Public Health
A doctorate in public health isn't the easiest PhD degree on this list, but with experience, it can become one of the most profitable.
With the pandemic, the need for public health professionals has never been more pressing than it is today.
That said, finding placement in this study field should be significantly easier than the easiest medical doctor degree.
The central premise behind a doctorate of public health is to train professionals to advise the public on important health measures.
In most cases, this will involve analyzing statistics, working alongside patients, and working in teams to prevent major health crises.
The best part about this type of career is that it's very hands-on, meaning it's a learning pathway for students who prefer to learn using their practical skills.
As expected, there are a few unique careers to explore with a doctorate in public health, including:
Medical Service Managers
Medical Researchers
Professors
Epidemiologists
Biostatisticians
Health Educators
8. Doctorate of Psychology
If you do some research to answer, "What is the easiest doctorate degree to get?" plenty of medical professionals suggest a doctorate of psychology.
Undoubtedly, there's plenty of strenuous studies that go into an advanced psychology degree, although it is considerably less than the average medical doctor.
With a doctorate in psychology, you'll be able to apply research skills to the wonderful world of mental health to assist patients on a larger scale.
The most important thing to note is that a psychology doctorate is often required for practicing psychologists.
In some areas, a master's degree is sufficient to open your own practice, while other states require a doctorate.
As such, you may not have a choice but to sign up for a doctorate of psychology program if you want to treat patients.
There are many career paths graduates can take after obtaining this degree.
It's also important to note that psychology is a continually high-demand industry, meaning your specialty will never become less popular over the years.
A few of the most popular careers for a doctorate of psychology student include:
Child Psychologist
Professional Development Specialist
Professional Consultant
Clinical Psychologist
Addictions Counselor
Researcher
9. Doctorate of Theology
Out of all the programs we've reviewed this far, a doctorate of theology is the easiest PhD program you can sign up for.
Designed to help guide students through spiritual practice, you can guarantee it's one of the easiest online doctorate programs you can also attend in person.
That said, it requires plenty of dedication, especially when it comes to applying your faith to every inch of your career.
With a doctorate of theology under your arm, you'll likely spend a lot of time traveling.
Many of these professionals teach and learn about religions worldwide, exploring divine and spiritual traditions in cultures on every continent.
There are also theology students focusing primarily on Christianity and spreading the word of Christ to communities worldwide.
During your studies, you'll dive into many fascinating subjects, such as literature, history, ethics, ancient texts, and philosophy.
Also, as expected, you're more than likely going to find a religious-oriented career upon graduation, such as a:
Minister or Pastor
Private School Teacher
Director of Religious Education
Professor
Social Services Manager
10. Doctorate of Nursing
A doctorate of nursing is often considered the easiest PhD to obtain because it requires plenty of experience beforehand.
Most professionals looking to enhance their medical experience enter a doctorate of nursing program with at least three years of employable experience.
From there, they diversify their knowledge in different medical fields to pursue more enhanced career options.
With a doctorate of nursing, you'll dive into advanced health systems, senior roles in health care, and outcome evaluation.
Most of these programs have a combination of hands-on and textbook learning and work-integrated research projects.
As such, you'll find it's one of the easiest PhDs to get if you already have experience with nursing and need a program to complete while employed.
A few of the most popular career avenues graduates from this program might explore include:
Healthcare Executive
Advanced Practice Registered Nurse
Healthcare Lobbyist
Clinical Researcher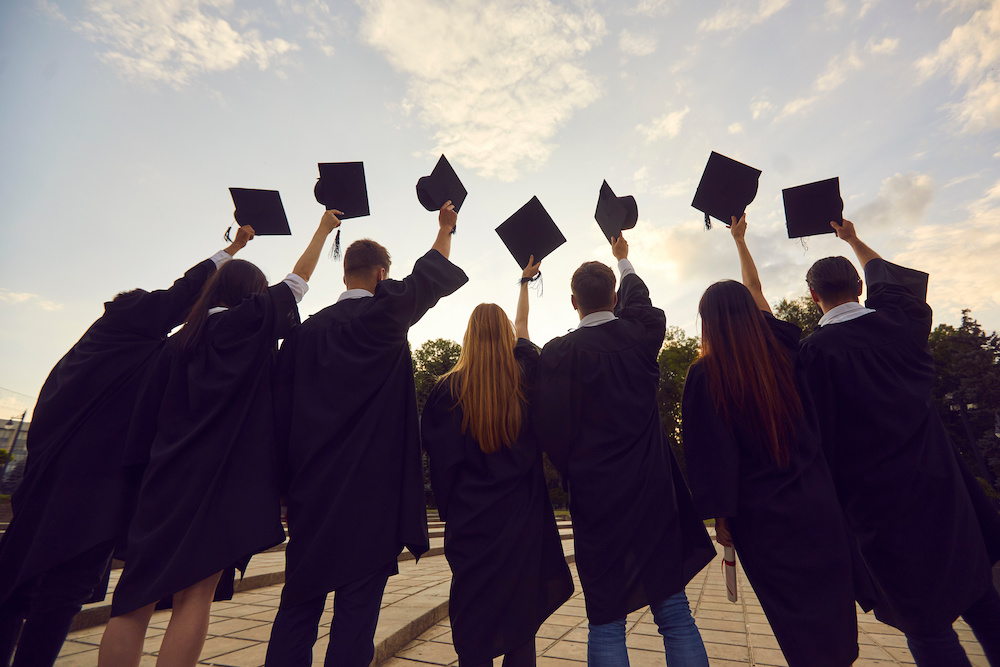 What Are the Best Schools for the Easiest PhD Programs?
With an answer to "What's the easiest doctorate to get?" it's simple to see the exponential options open to students of any background.
When pursuing further education, picking your potential area of study is the first step, but knowing what schools to attend is also important.
Let's explore the easiest doctorate programs to get into to help you start submitting your applications ASAP.
1. Boston University: Doctor of Occupational Therapy
Boston University is one of the most popular post-secondary institutions in the United States, and for a good reason.
It's home to some of the most diverse learning pathways for students nationwide.
That said, their doctor of occupational therapy degree program is the easiest PhD subject to dive into.
With this program, you'll be able to complete your full doctorate within 18 months, consisting of only ten courses.
Students will need to earn up to 37 credits with several fruitful concentrations to choose from.
The best part is this is a fully online program, allowing you to get your advanced studies from the comfort of your home.
Another reason this specialty is the easiest PhD to get is that it focuses on evidence-based practice.
Ideally, you'll enter this field with existing knowledge to help you get started, and you won't have to worry about a dissertation.
With courses starting three times yearly (September, January, and May), it's a great option for students.
2. University of North Carolina: Doctoral Program in Physical Therapy
If you've always dreamt of pursuing a degree in health sciences, the doctoral program in physical therapy from the University of North Carolina is fantastic.
They have two primary options for students to consider, either earn an online Ph.D. in nursing or earn a medical degree and master of business administration simultaneously.
Referred to as a transitional doctoral program, it's the easiest doctorate to obtain because your learning pathway is streamlined.
Students only have to dedicate 24 consecutive months to their studies.
Also, you can choose to complete the program online or attend your courses in person.
With full-time and part-time study options, it's a fabulous solution for career-minded individuals looking to diversify their earned degrees.
3. Liberty University: Doctor of Education
Becoming a teacher is a dream for many and Liberty University has one of the easiest doctor of education programs to consider.
It's a fully online course, just like other online DMA programs.
You'll also be able to earn your full degree within 30 months as long as you complete all 54 credits.
Each course will span eight weeks, and you'll never have to worry about a dissertation, an amazing advantage for further education.
That said, you will be responsible for a capstone project, which is something to keep in mind.
If you're asking, "What is the easiest doctorate degree to earn?" this doctor of education program has an in-depth curriculum that's great for all learners.
4. Frontier University: Doctor of Nursing Practice
As a nurse looking to diversify your career, it's time to ask, "What's the easiest PhD to get in my career field?"
Frontier University is home to one of the most competitive DNP programs because of how well-thought-out the coursework is.
With a top-rated curriculum and fully online learning, it's the perfect solution for employed professionals seeking an advanced university degree.
The DNP program at this school allows students to complete their studies between 18 and 20 months from enrollment.
In total, you'll be required to complete 33 credit hours, whether you want to do so part-time or full-time, based on your schedule.
Most enrolled students are currently employed nurses in their respective fields, thanks to Frontier University's flexibility.
Online learning gives you complete control over when and how you study, whether before or after work.
You'll also be able to set up your own schedule, giving you enhanced control when managing your coursework.
One of the largest benefits of this program is that it doesn't require GRE or GMAT but is likely to have a waiting list.
It's also important to note the program doesn't require students to complete clinical hours, making it even easier to accomplish.
Along with the fundamentals of your DNP, you can also take an assortment of complimentary courses to give you experience in a chosen specialty.
5. University of Tennessee: Doctor of Social Work in Clinical Practice and Leadership
Social work is an incredibly rewarding career, especially if you've been asking, "What is the easiest PhD to get?"
The University of Tennessee has a highly competitive doctor of social work in clinical practice and leadership programs all students should consider.
Within 36 months, your program will be completed, depending on the number and type of courses you choose to take.
This program is unique because it's specifically designed to be a faster track, allowing students to condense their learning into shorter chunks.
That said, you'll still be learning all of the fundamentals at a significantly faster pace than with similar programs.
With this program, you'll find it's a remarkable opportunity for working professionals interested in simultaneously maintaining their careers and studies.
The only requirement is that you take at least two classes per semester for three semesters.
From there, you have complete control over your studies, making it a flexible and adaptable learning pathway for every student.
Upon graduation, you'll have everything you need to work as a healer or leader in your industry, all without the headache of a dissertation.
6. Walden University: Doctor of Higher Education Leadership and Policy
Walden University is a phenomenal option for students looking to take control of their studies.
With their self-designed programs, you can pick the appropriate courses that align with your future career goals and specialty.
Whether you're a first-time student or a working professional looking to enhance your existing knowledge, it's a great opportunity.
The doctor of higher education leadership and policy is easily one of the easiest course options available from this school.
The best part is that they have a 100% acceptance rate, speaking to the quality of their curriculum and the number of graduates they assist.
Another huge benefit of Walden University is they accept up to 50% of your transfer credits for the Ph.D. fast-track options, helping you complete your studies faster.
When studying in this program, you'll require 86 quarter credits, which can be completed within three years or much shorter with a fast track.
You'll explore many fundamentals, such as education law, policy, governance, and 21st-century higher education.
7. Capella University: Doctor of Psychology
When asking, "What is the easiest doctorate to get?", a doctorate of psychology is a great choice that unlocks numerous career options.
At Capella University, students can study from anywhere in the world as long as they have an internet connection, as the course is entirely online.
If you've been searching for a degree program with a higher level of flexibility than most standard programs, this is the best choice.
Most students in this program complete their studies within five quarters, which is ideal for working professionals.
In total, you'll be required to get 87 credits, which could take nine quarters if you choose to study part-time.
The best part, as expected, is the coursework is entirely online.
At Capella University, students benefit from a 100% acceptance rate and a few other benefits, like military benefits, employer discounts, and scholarships.
You'll also find their tuition is quite affordable, especially for a Ph.D. program, at $545.
Expect to explore many fundamentals, such as inferential statistics, quantitative research methods, and multicultural issues in psychology.
8. University of Florida: Doctorate of Classical Studies
Classical studies are a fundamental aspect of human development and history.
Without these professionals, we wouldn't have a way to preserve ancient texts, learn from past mistakes, and continue teaching historical facts over the years.
With a doctorate in classical studies, you'll explore many fascinating subjects, such as Roman traditions, Greek prose, and Latin prose.
One of the most significant benefits of this program is that it's offered by the University of Florida, one of the nation's top research facilities.
It's also a highly competitive specialty program, so it's offered on-campus and requires a maximum of three years of study.
That said, if you want a doctorate in this area of expertise, you need 60 credits for the course to be completed.
Another important feature of the University of Florida is its thriving campus life.
It's a fantastic opportunity for students interested in networking and making lifelong friends.
There are also numerous activities on and off campus to explore, ranging from local cuisines to art shows.
9. Arizona State University: Doctorate in Behavioral Health
If you love the idea of assisting with mental health but don't want to allocate a lot of time to a doctorate, a doctorate in behavioral health is a great alternative to psychology.
At Arizona State University, students will work alongside clinical professionals to offer medical services to help others with better mental health and well-being.
You'll understand how mental health affects your mind and body, as well as what behavioral interventions are best for certain situations.
You'll dive into different concentrations during your studies, such as health management, psychopharmacology, and clinical concentrations.
Many students explore courses like advanced clinical issues, ethical issues in psychology, and legal issues in behavioral healthcare.
That said, it's important to note this career is quite different from a standard psychologist or psychiatrist, as you are not qualified to make diagnoses.
This program can be completed within 12 months, allowing you to explore a world of fabulous opportunities.
It's a phenomenal way to branch out into the mental and behavioral health industry.
10. University of Arkansas – Doctorate of Adult and Career Education
Students who have always wanted to try their hands at teaching will love this program offered by the University of Arkansas.
With 24 months of courses, you'll have the skillset necessary to help adult learners further their education.
This area of specialty is also fantastic for assisting with career preparedness and academic guidance for older students.
You'll explore numerous subjects when enrolled in this program, such as organizational management, adult learning theory, ethical issues in adult learning, and more.
Upon graduation, you'll have amazing skills to work with cognitive coaching and create diverse learning opportunities for all students.
What Are the Easiest PhDs?
Ultimately, the easiest PhDs could be anything from nursing to occupational health; it mostly depends on your expertise.
With shorter, fast-tracked programs and online studies, you can get your advanced degree in less time and in a way that best suits your needs.
There's no better time than now to enroll in the easiest Ph.D. programs to become a more competitive learner.