Having the quickest certifications under your belt is a surefire way to find a well-paying job within several months.
It's no secret that college and university degrees are costly and require a lot of time to complete.
That said, finding quick certifications is often preferred, as it helps students go from school to work in far less time.
This guide will look at fun certifications you can get in significantly less time than a standard post-secondary degree.
We guarantee there's a program designed for everyone looking to diversify their employable skills.
Certifications vs. Degrees: What's the Difference?
When looking at the benefits of certifications, it's easy to wonder why people bother with standard degrees if certificates are cheaper and take less time.
Although both degrees and certificates can be helpful, they have a couple of considerable differences.
Career-Focused
Most certificate programs are designed for career-minded students who want to work sooner rather than later.
Many certificate programs give you the experience needed for hands-on jobs, such as paralegals, different types of trades, and more.
Generalized Studies
When looking at the course curriculum for many certificate programs, you'll find the course selection is more generalized than with college.
This is because you're giving a broader education encompassing numerous skills rather than a specific specialty.
It's a fantastic opportunity for students that love trying their hands at numerous things.
Specialty Focus
When working towards a degree, you'll notice your curriculum will be primarily focused on your specialty.
This gives you more in-depth knowledge of your industry than with a standard certification program.
Time
Undoubtedly, the largest difference between a standard degree and the quickest certifications to get is time.
You'll be able to get your certificate or license in far less time than if you were working towards an undergraduate or graduate degree.
There's a common misconception that if you work towards a certificate, there's no way to diversify into further education.
Fortunately, a certification is a stepping stone to future learning opportunities for many students.
Depending on your specialty, you may want to consider a professional certificate before working towards an associate's or bachelor's degree program.
Certain schools in your area will take the time you put into your certificate program into account.
With this option, you can get your degree in less time as your previous studies count towards your current learning pathway.
Quickest Certifications: The Fastest Certifications to Get for Your Career
Let's dive right into the cool certifications you can get in less time than working toward a degree program.
Real Estate Sales Agent and Broker
If you're looking for high-paying short certificates, why not work towards getting your real estate license?
Real estate agents have the potential to make plenty of money, and many of these professionals work for themselves.
With more experience and the right certifications, you can even become a broker and open your own office, hiring like-minded agents to sell on your behalf.
When training to become a real estate agent, you'll need to take a couple of examinations, such as brokerage examinations and real estate licensing exams.
Depending on where you live, you'll also be responsible for paying extra fees, such as a $125 exam fee.
However, it's one of the cool certifications you can get in far less time than you'd think.
The average real estate agent needs to put 120 hours of training into their learning before applying for their license.
In total, many professionals are ready to begin selling homes within five months.
If you want to become a broker, expect to dedicate up to three years of experience before applying for the examination.
As mentioned, real estate agents have the potential to make a ton of money, but it can fluctuate considerably.
You're paid solely based on the commission you make per sale, so if you're not selling houses, you're not making money.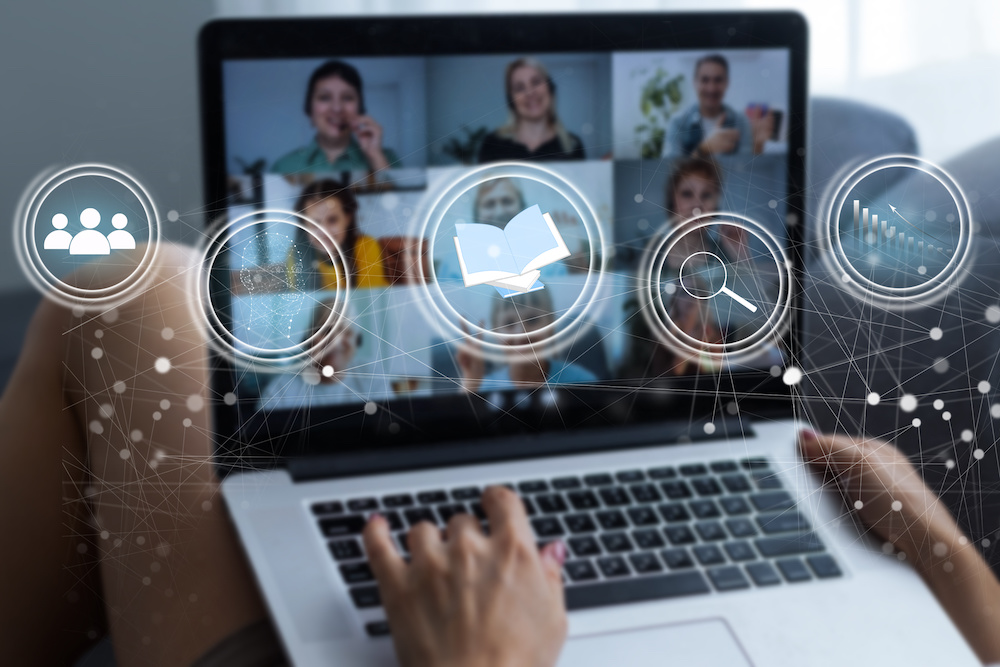 HVAC Technician
Becoming an HVAC technician might not be one of the easy licenses to get to make money, but it can be a rewarding career that'll always be in high demand.
There's plenty of training for this career, but most programs are designed to get you in and out of school as quickly as possible.
Plus, most trades programs are fantastic for hands-on learning and real-world working experiences, helping give you the experience needed to start working sooner.
HVAC technicians can work in several unique places on a day-to-day basis.
One day you might install an air conditioning system in a family member's house, while the next, you could repair air filtration in a commercial building.
Aside from installations, you'll be responsible for responding to maintenance calls and emergency repairs as needed.
Many HVAC technicians take certification programs that include both in-class learning and on-the-job training opportunities.
This allows you to get all of your studies completed at the same time rather than dedicating years to your craft.
That said, there are strenuous regulations to meet, such as requiring up to 200 hours of training before sitting for your examinations.
One of the largest benefits of these fun certificate programs is they open the door to numerous notable careers.
HVAC technicians often have a low turnover, speaking to the reliability and quality of their working environment.
Also, the more experience you have, the easier it'll be to work for yourself and open your own business.
Phlebotomist
If you've been searching for uncommon certifications to complete within the medical sector, a phlebotomist is one of the cool things to get certified in.
As a phlebotomist, you're responsible for helping manage patient lab tests.
Not only will you be responsible for drawing blood, but you'll also be in charge of conducting other lab tests that doctors issue for their patients.
Another important part of the job is to keep medical personnel advised of the results of the tests.
Unlike a few of the quickest certifications for jobs on this list, there's more to becoming a phlebotomist than getting your certification.
It's highly likely you should go to a community college or technical school to get in-classroom training.
During your studies, you'll dive into important topics such as conducting lab tests, patient ethics, drawing blood, and more.
After completing your studies, you'll be granted admission into the certification exam, which can cost around $200, depending on where you live.
Although it may sound more time extensive than expected, most phlebotomists train for up to 120 hours and complete their studies within six months.
Along with spending time in class learning about your career, you'll also get on-the-job experience after receiving your license.
Most employers will train you with real patients before allowing you to work independently.
Fitness Trainer
Have you always had a passion for health and fitness?
If so, this is one of the unique online certifications to consider signing up for if you want an exciting career.
As a fitness trainer, you'll help your clients lead healthier and happier lives by implementing exercise into their daily regimens.
A career as a fitness trainer can be quite exciting, as each day is something different, and you'll be working with different clients.
For example, some of your clients might want to lose weight while others might be training for a major triathlon.
It's your responsibility to develop a fitness plan that accommodates their body type and limitations while meeting their goals.
There are two primary avenues that people with these cool certifications can choose from.
You can either become an independent trainer and work for yourself or work at a gym with other trainers.
It's important to note that regardless of the path you choose, your certifications are incredibly important.
Fitness trainers usually require 50 hours of internship experience and a certification test which can cost up to $500.
You may want to consider other business certifications worth getting, such as nutritionist certifications, to help diversify your skillset.
The more well-rounded you are as a trainer, the better paying your clientele will be.
SEO Writer
Have you always had a natural penchant for creative writing with a keen eye for detail?
If so, working towards random certifications for online writing can be a massive advantage.
Of course, having other qualifications, such as a journalism degree, could be helpful for higher-paying jobs with publishing companies.
However, if you want to work online and be an SEO writer, all you truly need is a natural talent and a few certifications.
Interestingly, some of the best six-month certificate programs teach you the ins and outs of online marketing, from content writing to website design.
You'll also find it's one of the more fun certifications if you've always wanted to work for yourself and build your own schedule.
A major benefit of being an SEO writer is that the field is only slated to grow over the coming years.
As more businesses branch out onto the internet, they need professionally designed websites to bring more traffic in for higher sales.
This is where SEO comes into play, as your skillset is what will rank small business' websites higher on Google.
The best part is that most online marketing careers have quick certifications.
Most often, you can find programs that are under three months long.
Medical Coder
Becoming a medical coder can offer quick and easy certifications in the medical field without training to be a nurse or doctor.
You'll have the opportunity to work alongside healthcare professionals while organizing patient information and files.
There are several fun certifications to get online as well as in-person courses to take if you want to become a medical coder.
You'll learn about human anatomy with a strong focus on medical terminology during your studies.
You'll also need to study coding techniques using CPT and ICD diagnostics, which can take a few months of training.
After your coursework, you can sit for the American Health Information Management Association exam.
The most important thing to note when looking for medical things you can get certified in is to choose an accredited program.
For example, medical coders will require an AHIMA-approved program for their credentials to be valid.
You may also require a high school diploma or GED to qualify for training.
Brick Mason
People searching for quick certifications to get so they can find a hands-on career will love the idea of becoming a brick mason.
These professionals are the backbone of society, as brick laying is used in everything from residential to commercial buildings.
As such, it will require some important training to get you started, but with your quick certifications that make money, you can join a highly profitable career.
Most brick masons can get their certifications within six months as long as they have a high school diploma or GED to start.
You'll also be required to sign up for apprenticeship programs to get hands-on, real-world experience before working independently.
That said, joining an apprenticeship program is a phenomenal way to teach you a trade while also paying you for learning.
Once your studies are complete, you can get your masonry certification from the Mason Contractors Association of America.
This credential is required for you to start work on any job site.
Behavioral Technician
Behavioral technicians are one of the fastest-growing careers in the psychology industry, and it's one of the cool certifications to get that enables you to help others.
Instead of settling for random certifications, becoming a behavioral technician can be equally fulfilling and financially rewarding.
Not to mention the training isn't as long as you would think.
As a behavioral technician, you'll work alongside behavioral analysts to help address and modify human behaviors.
With each patient, you'll teach them how to replace unhelpful and often harmful behaviors with healthier mechanisms.
You'll also be responsible for conducting plenty of observational research, note-taking, and administrative tasks.
A behavioral technician is one of the most valuable business certifications for someone looking for quick easy certifications.
In total, you only need 40 hours of instruction before sitting for the qualification exam.
Once complete, you'll be awarded the Registered Behavioral Technician Certification.
What Are the Quickest Certifications?
The sheer number of cool certificates you can complete in under six months is astounding, especially if you're looking for a hands-on career.
With the quickest certifications, you can explore your dream job within months rather than waiting years for a standard degree.
If you've always been career-focused, there's no better time than now to enroll in 4-6 week certification programs to get started.