Becoming an architectural and civil drafter can be a fantastic career path for students fascinated by the construction and structural components of buildings.
It's a highly creative career with plenty to do with commercial and residential engineering, not to mention it's a high-paying job opportunity.
That said, most civil drafters have plenty of schooling, and there's no better time to learn how to get started.
What Are Architectural and Civil Drafters?
Pursuing a career in this field means you'll work on plenty of urban homes and commercial buildings.
Drafters are responsible for creating drawings of structural features or topographical maps used for various engineering projects.
Much of your work might be used to create bridges, highways, and other public works.
As such, you'll get plenty of fundamental knowledge with your architectural drafter training in school.
These professionals are often well-versed in engineering practices, building materials, and advanced mathematics needed to complete structural drawings.
Architectural and Civil Drafter Career: At a Glance
Before deciding that architectural drafting college is where you belong, it's important to consider your future career.
The data we'll explore in this section has been derived from the U.S. Bureau of Labor Statistics.
Some fascinating career-oriented facts about architectural and civil drafters include:
The mean annual wage for these professionals is $60,620.
The top 90% of employed professionals earn $80,560 annually.
4.69% of industry employment comes from architectural, engineering, and related services.
2.49% of these professionals work in veneer, plywood, and engineered wood product manufacturing.
Architectural and civil drafters in the District of Columbia have the highest annual mean wage at $75,980.
Some of the common job responsibilities for these professionals include:
Using CAD (computer-aided design) programs to create construction drawings
Reading and adjusting blueprints to meet project requirements
Review drawings to guarantee they meet building regulations
Working alongside builders and clients
Applying for permits and preparing estimates
What Skills Do an Architectural and Civil Drafter Need?
As you can likely tell, there are several skills architectural and civil drafters need for their careers to succeed.
For example, strong attention to detail and working with computer programs are two must-haves.
You'll also want to ensure you refine your sketching and creative abilities, as you will be required to hand-draw different blueprints throughout your career.
One often forgotten skill for these professionals is clear communication skills.
Not only will you have to communicate effectively to builders through blueprints but also to your clients.
By understanding both the client and builder sides of construction, you can guarantee that both parties' needs are being met.
Several other key skills to consider developing during your time studying as a civil drafter include:
Collaboration skills for when working in team environments
Numerical and mathematical skills for designing and adjusting blueprints
Advanced computer skills when dealing with software programs
Organizational abilities and time management skills to keep your team on-task
Artistic and creative abilities for planning, drafting, and amending blueprints
Attention to detail to guarantee nothing falls through the cracks when designing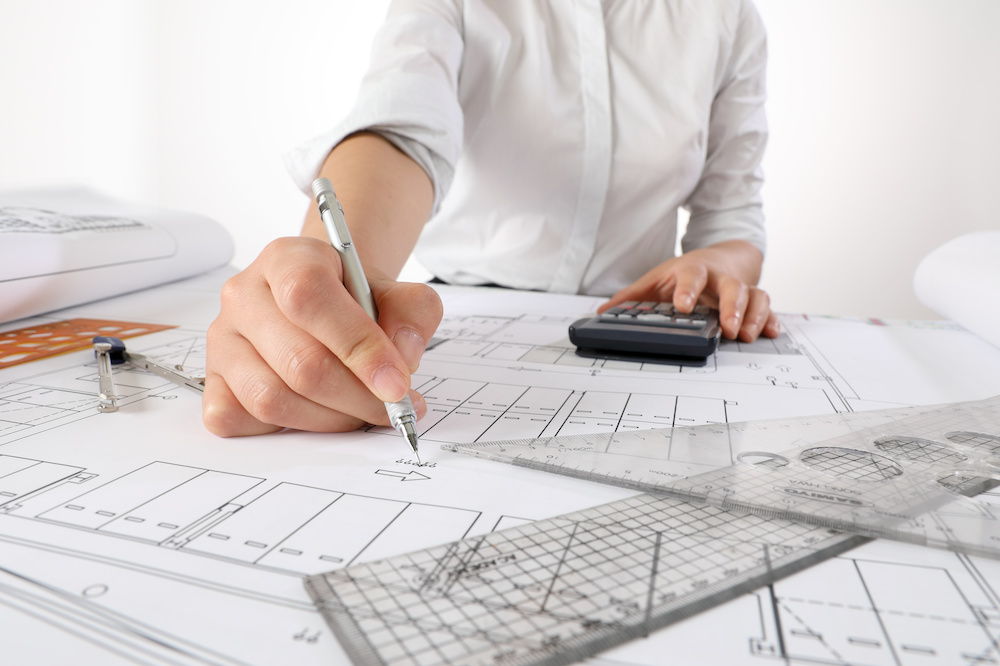 How Can I Become an Architectural and Civil Drafter?
With a good idea of what the job entails and some fascinating statistics about the field, you've likely decided a career as an architectural and civil drafter is in your near future.
Let's jump into the details you'll need to help you find the best architectural drafting schools.
Step 1: Research Architectural Drafting Colleges
You would be surprised at the sheer number of architectural drafting colleges in your immediate area.
These programs are a fantastic way to learn the fundamentals of architectural drafting, preparing you for a prosperous career.
Another massive benefit is that many courses can be completed quickly, with many programs lasting no longer than two years for full-time students.
That said, there could be significant differences between a degree and a diploma for civil drafters.
Depending on the career you are interested in, consider a degree program, which could take four or more years to complete.
Step 2: Apply and Enroll
Once you've applied to your dream college and have been accepted, it's time to enroll in your courses.
Most schools for drafting will give you a list of recommended courses to take to earn your degree.
That said, you can expect to explore many tenets of the career through theoretical and hands-on learning experiences.
A massive component of your education will also involve using software programs.
Civil drafters commonly use SolidWorks, 3D Studio Max, Revit, AutoCAD, and Autodesk Inventor.
You'll find the central premise of your studies will be learning the ins and outs of the most popular software in the industry, as this will be a must-have tool for your future career.
Step 3: Complete an Internship
Being a civil drafter is ideal if you're the type of student interested in getting hands-on experience before moving on to a full-time career.
During your studies, you will be required to complete an internship, which will help you to learn from leading industry professionals.
Most students will complete their internships during their junior or senior years of their program.
With your internship, you'll get more hands-on experience, helping you learn marketable skills to fuel your future job prospects.
You'll also explore the fundamentals of problem-solving, teamwork, time management, and many other skills.
Step 4: Earn a Degree
There are two main ways students work towards becoming professional architectural drafters.
Some students opt to earn an associate's degree and start working within a firm to get hands-on experience.
Others earn an associate's degree before moving on to a four-year university program to earn their bachelor's degree.
Your learning pathway depends entirely on the career you intend to have after graduation.
With an associate's degree, you'll find you can work entry-level positions within an architecture office or in other industries.
You may also be required to obtain additional training certificates to prove your capabilities.
If you opt to earn an associate's and bachelor's architectural drafter degree, your employment options become broader.
You'll find more, higher-paying opportunities as you have more schooling to back up your experience.
It also makes you far more competitive when you start applying for jobs.
Step 5: Get Work Experience
With your degree and an internship in your history, it's time to find employment after graduating.
This is easily one of the most important steps when learning to become an architectural drafter, as work experience can be incredibly valuable.
You'll want to find gainful employment in your industry, where you'll have direct supervision to help refine your skills.
With the help of a team lead or supervisor, you'll learn how to work with technical designs, draft blueprints for real-world situations, and participate in upcoming construction projects.
This experience is something that every drafter needs, as it can help them earn the skills needed to work independently.
Also, many full-time positions require their architectural drafters to have hands-on experience before getting independent positions.
Step 6: Consider Professional Certifications
With your architectural and civil drafter certificate, finding employment should be relatively easy.
However, this is a highly competitive field with massive salary benefits for the most trained professionals.
That said, it can be a great idea to consider working towards professional certifications after a few years of work experience.
The American Design Drafting Association has professional certifications that designers can obtain; in many instances, the certificate is necessary.
With this credential, you have proven you can work on structural engineering projects independently.
Not to mention it's also a massive credential to have on your resume, making you even more competitive.
To earn the certification, you'll have to sit for a 90-minute exam exploring several drafting topics.
It's also important to note that you must renew the certification every five years since building regulations and expectations change.
Step 7: Continue Advancing Your Career
It's easy to assume that after finishing drafting trade school, all of the hard work is done.
For many professionals, they keep up with their drafting certification, and that's all.
However, it can be a massive advantage to continue advancing your career through added studies as you become more experienced.
Remember, there isn't a shortage of professional certificates you can work towards to add to your resume.
You can even consider signing up for a master's degree program at a drafting trades school.
With this, you'll continually be up-to-date with the latest regulations and changes in the building industry, keeping you at the top of your game.
Continuing your education is essential for being a modern drafter and helps keep you employable.
The more credentials and degrees you have under your belt, the more competitive you'll be as a professional.
Do You Have What It Takes to Be an Architectural and Civil Drafter?
If all of the skills and details we reviewed in this post interest you, a career as an architectural and civil drafter could be in your future.
As the ideal degree path for students with a keen eye for detail and creative drawing abilities, it's a fantastic avenue of study.
Not to mention it turns into an exceptionally profitable career with an exciting work environment.