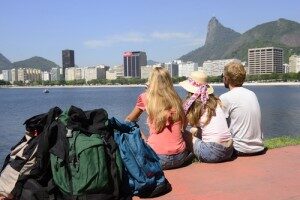 It's common advice: telling high school graduates to take time off after high school to do something interesting before college (a gap year) — especially if they are unclear about their interests or what they may want to major in. The latest data from the National Center of Education Statistics, however, suggests that taking a gap year may not be the best idea for students who want a college degree.
According to the latest data from a longitudinal study that tracked students from their 10th grade year in 2002 through their mid 20s in 2012, only 6 percent of students that took a year or more off after high school earned a bachelor's degree by the time they were 25 or 26 years old. But 42 percent of students that went to college straight after high school got their BAs in that same 10-year time period.
I'm not quite ready to tell all kids to go straight to college. I'd like to see this data broken down by the selectivity of the college these students eventually go to. I would guess that the graduation rates of students who took off a year, but still go to a top college are fairly high.
On the Other Hand…
The results of the study, on the other hand, may also reflect an increased interest in deferring college due to academic or economic uncertainty as well as the cost of going to school. In recent years, there's been growing interest and enrollment in gap years among U.S. students.
In most cases, colleges will allow students to defer their attendance for a year, provided they outline their gap year plans. If you are thinking about taking a gap year, evaluate your situation with realistic expectations before reaching a decision.
The most important factor in choosing to take a gap year is drafting a plan of action, according to U.S. News. Do you plan on studying abroad, traveling or volunteering? Perhaps you will try to work in a field you are interested in pursuing once you start college.
There are many options, so make sure to use your gap year productively and add to your life experiences in a way that you likely could not have otherwise achieved.
Depending on what you do during your gap year, the experience may have financial costs. Money may not be a problem if you plan on volunteering in exchange for food and housing, or working in a paid position. However, many adventure travel and study abroad programs ­– though amazing opportunities to expand your horizons – may not come cheap.
Depending on your family's means and the financial aid package you obtain, you may need to take out large loans to pay for college. If this is the case, be careful before committing to an expensive gap year journey.
In addition, before deciding to take a gap year, consider very carefully why you want to take a year off before college, as well as what you hope to get out of the experience.
Are you burned out and seeking a year off from structured schooling? Do you feel like you lack life experience and could gain from trying something different before hunkering down to four years of college? Are you not sure what you want to do with your life and want a full year of real-world experience before having to decide on a major?
If you cannot truthfully answer "yes" to any of these (or similar) questions, a gap year may not be right for you.
The benefits of a gap year for you must outweigh the disadvantages. At first blush, taking a gap year can seem like a win-win. Assuming you have already been accepted to a college, have a good plan for and can afford your gap year and have received permission to defer admission for a year, there might appear to be no negatives to your year off.
Before taking the plunge, however, evaluate what some might consider personal drawbacks of the gap year.
Taking a gap year will put you a year behind your high school friends in college experiences such as moving in, attending orientation, making new connections, picking a major, planning for a career and graduating.
In addition, your study skills could suffer if they are not used for a year. If you don't feel burned out, it may be best to continue your schooling without a break and maintain academic momentum.
Finally, a gap year not only means you start college a year late, but also that you finish college a year late, delaying pursuit of your career. In a competitive job market and tough economy, it's more important than ever to get work experience.
On the other hand, a gap year could enable you to gain that experience in your field of choice before starting college and give you a leg up for internship positions. Ask yourself whether the benefits of a gap year make sense for your education and career goals.