A host of new apps for Droid and iPhone have finally done the impossible: they have made it cool to be frugal.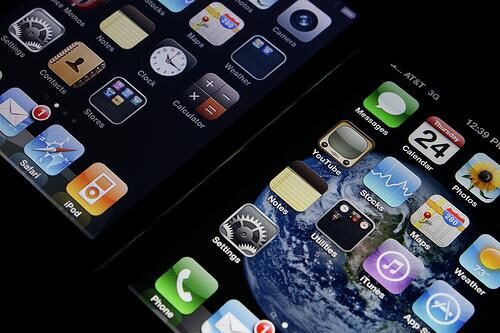 The app market has exploded in recent months—there are currently over 350,000 apps available on the apple.com website alone—and more are being added constantly. Many of these apps are designed to help thrifty consumers save money. There are apps to help you cut costs, track spending, maximize efficiency, and even avoid budget-busting pitfalls.
It's now positively cool to pinch pennies using a slew of apps that can help you throughout the day: on your commute, while preparing meals, at the grocery store, even during happy hour. Here are a few money-saving apps to help you squeeze the most out of your monthly budget and look cool doing it:
1. Dinner Spinner – This iPhone app from the popular cooking site allrecipes.com allows you to enter an ingredient and see a list of recipes using that item. It can be a great source of inspiration when you are trying to whittle down the pantry supplies, or are stumped for what to do with an eggplant. Price: Free. (A pro version with enhanced features is available for $2.99.)
2. BigOven – Similar to Dinner Spinner, this cooking app has a deep recipe database and a special function to help you use up leftovers creatively. Available on iPhone and Android. Price: Free.
3. Groupon – Groupon's subscribers leverage the power of collective purchasing by signing up for daily deals in select cities. If the minimum number of purchasers signs up, then the coupon is activated and users receive a deep discount on a product, event or service. Available on iPhone and Android. Price: Free.
4. Carticipate – This carpooling app puts riders and drivers together to unclog the roads, take advantage of rideshare lanes, and reduce pollution. Go green and meet like-minded people in your area, all while lowering your monthly gas bill. For iPhone. Price: Free.
5. CheckPlease – Much more than a tip calculator, this app also helps you divide up restaurant bills among multiple diners, switch to different currencies, and even skip tipping on sales tax. Helpful if you have friends whose math-impairment leaves you with an unfair share of the bill at times. Available for iPhone and Android. Price $0.99.
6. Cobra iRadar– All of your scrimping and budgeting for the month can be blown away by one hefty traffic fine. The award-winning Cobra iRadar app for iPhone alerts drivers to red-light cameras and speed traps, as well as dangerous intersections. Bugs in earlier versions have been largely resolved. An Android version will be available in early 2011. Price: Free.
7. Skype — Skype is a great resource for making free calls either computer to computer or device to device over WiFi or 3G. Skype is especially useful for avoiding steep international phone charges. Calls and text messaging to land lines are charged at reasonable prices. Available on Android and iPhone. Price: Free.
8. Mixology – The free app Mixology Drink Recipes lets you be your own bartender. Look up a few cool recipes (the "Guilty OJ" sounds pretty interesting), invite some friends over, and have happy hour at home instead of going out and paying for overpriced cocktails after work. With nearly 8,000 drink recipes, this little app should keep you entertained for quite a while. Available on Android and iPhone. Price: Free.
9. Coupon Sherpa – This coupon app allows you to take advantage of in-store merchant discounts without the hassle of clipping or printing out coupons. The location-based software uses your phone's GPS to identify coupons for stores in your vicinity. To redeem, the cashier scans a bar code from your device or enters a numeric code. You can also customize the display to highlight your favorite merchants and filter out the duds. Special coupons for app users are available as well. Available on Android and iPhone. Price: Free.
10. GroceryIQ – Shopping from a list helps keep your grocery store bill under control by eliminating impulse purchases. The shopping list app Grocery iQ takes the shopping list to a new level of usefulness. This app helps you get in and out of the store in an efficient manner by organizing your list by aisle, and also lets you scan and record favorite items for future reference. Coupons, sorted by aisle or brand, help you trim costs, and a new feature allows you to synchronize shared lists with multiple users so you and hubby don't come home with redundant purchases. Available on Android and iPhone. Price: Free.
11. Mint – No money-saving app list would be complete without Mint.com. Mint is an on-the-go personal finance app that gives users a detailed financial picture across multiple accounts. Categorized budgeting info gives you an up-to-the minute spending picture for the month, so it's easier to keep your finances on track. Available on Android and iPhone. Price: Free.
12. GasBuddy – Another simple, but popular app, GasBuddy, lists fuel prices based on the user's location. Powered by a community of users who input data on local gas prices, this app will save you money at the pump (as long as you don't drive across town for a one-penny-per-gallon discount). For iPhone and Android. Price: Free.
Since there are a few hundred thousand apps out there that I didn't mention, there are probably many more that could be added to this list. If you have any favorite frugal apps, please share them!