This contest is now closed. Congratulations to the winners, Lara (comment #67) and Tricia (comment #180)!
Sears and Kmart are offering FrugalDad.com readers the opportunity to win a $50 gift card, redeemable at Sears, sears.com, Kmart, kmart.com, Lands End, and landsend.com, among others. With the various store options, you'll find a wide variety of brands to choose from, which most single-retailer gift cards don't provide.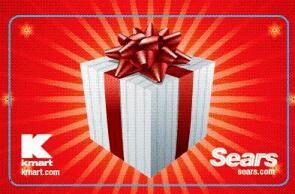 They were even nice enough to toss in a $200 gift card for the Frugal family, for us to do a little shopping at a local Kmart or Sears store. We decided to check out Kmart with Christmas lists in hand. Here's a sampling of the items we picked out using our gift card:
Craftsman magnetic bowl (great for holding nuts, bolts and washers when putting together Santa's toys)
Towel rack for our bathroom (ours got a little beat up in our recent move)
Up on DVD (for our next frugal family fun night)
Monsters vs Aliens DVD
Troop Beverly Hills DVD
Soccer Mom DVD
A couple Christmas ornaments
Chess board (my daughter is learning the game)
Christmas tree skirt
8 qt. stainless steel mixing bowl
Paula Deen cooking utensils
2 Mylar emergency blankets (for the car emergency kits we're putting together)
3-pack Trident gum
Pocket knife (every frugal person should have a small pocket knife on them)
Whew! And after all that, I still have $15-$20 to head to Sears and pick up a tool I've been needing. I know, enough about my shopping spree. You are ready to learn how to win your own $50 gift card, right?
How To Enter
Entering is simple. Leave a comment here sharing your favorite holiday tradition. Maybe it's a Thanksgiving Day family football game, or opening one present on Christmas Eve (my mom used to let me do this). Your tradition counts as your entry. if you are short on traditions, tell us one you'd like to start, or one you enjoyed growing up.
When the contest closes this Saturday night at 11:59pm EST, I'll use random.org to select two winners who will receive a $50 Sears/Kmart gift card.
Again, the contest closes this Saturday, December 5th at 11:59pm EST. Get your comments in now, and be sure to leave a valid email address where indicated so I can notify you if you are one of the lucky winners. Good luck!