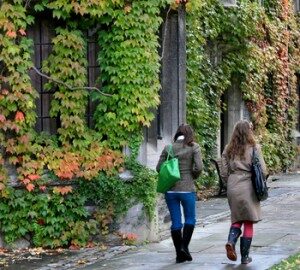 Although the great recession drove many individuals back to school, bolstering enrollment and tuition dollars for online schools and community colleges, private colleges did not see the same results. In fact, according to Inside Higher Ed, some private colleges that managed to weather the recession are finding new troubles. So they are announcing layoffs, cutting programs and more. Almost all of these small to mid-sized privates are tuition-dependent and lack large endowments. National declines in the number of traditional college-age population mean students just aren't showing up to privates, which are facing competition from public colleges that are more stable now than a few years ago and the reality that privates cannot afford to indefinitely lure students by cutting prices with generous financial aid packages.
An Inside Higher Ed piece reported that college presidents, private college trade groups and higher ed consultants blame a confluence of long- and short-term trends for battering some private colleges, particularly the small to mid-sized privates that depend on tuition dollars because they don't have significant endowments.
The reported pointed out that Midway College in Kentucky is dealing with an 18 percent enrollment drop by laying off "around a dozen" of its 54 faculty, according to The Lexington Herald-Leader. It has also eliminated about 16 staff positions. In a recent speech, the new president said the college may try to become a "university," expand internationally and add graduate programs to help grow.
Holy Family University in Philadelphia cut 40 staff positions – about 7 percent of the staff – and, partially through retirements, reduced the number of full-time faculty to 81 from 100. The university is also shelving low-demand programs, selling land and dorm units and working on other cost-saving measures.
Anderson University in Indiana approved a plan to cut 16 of its 400 faculty and staff and end its majors in French, philosophy and theater. Anderson's president blamed a decline in enrollment and said to expect more cuts.
Wittenberg University in Ohio recently eliminated nearly 30 of about 140 faculty spots — "15 occupied and 14 unoccupied faculty positions" — as part of a $4.5 million budget cut, according to The Dayton Daily News.
Martin University in Indianapolis expected 700 students to enroll this fall but only 522 did, so the university cut 16 faculty and staff positions in October.
Johnson C. Smith University in North Carolina, which was hit hard by changes to financial aid that hurt its enrollment, laid off 21 staffers, not filling 30 other positions and looking to furlough staff and outsource some services.
Moody's Investors Service just gave Ashland University in Ohio a poor credit rating and warned it could default because of three years of declining enrollment and a relatively small amount of cash compared to debt. Central College in Iowa also got knocked by Moody's last month for a decline in first-year students from 412 in fall 2011 to 309 this year. Moody's put Woodbury University in California on a negative credit outlook after a 22 percent drop in the size of the incoming class created a $1.1 million shortfall.
Pine Manor, a women's college in, Massachusetts has dorm rooms for 600 students but decided to go co-ed and admit male students this summer when enrollment fell to 300. Goddard College, a nontraditional college in Vermont, is trying to cut faculty and staff pay to deal with a $550,000 deficit in a budget of less than $13 million.
Some colleges are looking to work together in new ways, another sign of stress:
St. Bonaventure University and Hilbert College in New York, which began talks earlier this year that could result in a merger of the two Roman Catholic institutions.
In November, Houghton College in New York and Indiana Wesleyan University in Indiana, which is some 500 miles away, also began talking about a long-distance partnership to allow Houghton, a small private, to use offer online courses using resources from Indiana. Point University in Georgia and Montreat College in North Carolina plan to merge. Johnson University, in Tennessee, and Florida Christian College merged this summer.
According to Inside Higher Ed, there isn't good real-time data on how institutions are doing. Indeed, some colleges have declined to comment on the extent of their problems to media and yet other institutions may be struggling silently in rural areas without aggressive higher ed reporting. Downgrades by bond-rating agencies tend to attract attention, but institutions in really bad shape that know they can't borrow may not even go in for a review.
The outside causes of recent troubles are numerous: a decline in high school graduates, worries about loan debt, students looking at college programs that would seem to ensure a job after college, new technology, competition from for-profit colleges, a decline in the amount of government aid, the recent economic downturn, the bond market and, because of some rebounds in the economy, a loss of graduate students coming back to college to get new skills.
Private colleges have their own unique challenges, too: small endowments mean they depend on enrollment to bring in tuition dollars, they have smaller class sizes so can't subsidize operations with large lectures, they traditionally have mostly tenured faculty, they are often in rural areas with shrinking populations and they are perceived as being unaffordable.
Some of the larger worries about the health of privates have yet to play out in some data sets, said several private college experts.