A yearly median tuition of $9,720 is charged by schools with online BSN programs around the country. In recent years, there has been a 28.3% increase in the median tuition. At these online colleges the median tuition per year in 2007 was $7,575.
The range of tuition at online BSN colleges is shown in the following chart. Tuition is shown from the most to least expensive colleges and universities.
| Tuition Level | Number of Schools |
| --- | --- |
| Cheapest | 41 |
| Low cost | 41 |
| Average cost | 65 |
| Most expensive | 38 |
Tuition of more than $19,628 each year is charged by the most expensive colleges and universities with online BSN programs. The cheapest colleges, however, have yearly tuition costs ranging from $1,714 to $5,228. The accredited online BSN schools that are the most inexpensive are located in Florida, Massachusetts, Nevada, New Mexico, and North Carolina.
Bachelor of Science in Nursing (BSN) degree completion program
Bachelor's – Nursing (BSN)
Bachelor of Science in Nursing – RN to BSN
RN to BSN
Bachelor of Science in RN To BSN
RN to Bachelor's Degree in Nursing
Associate of Arts and Science in RN To BSN
Bachelor of Science in Nursing in RN – BSN
Bachelor of Science in Nursing in RN To BSN
B.S. in Nursing (Registered Nurse – R.N. to B.S.N.)
These reasonably priced programs graduated roughly 25% of nursing graduates from online schools around the US in 2011. Therefore, of the 1,868,881 graduates in the nation, 466,497 are from the most inexpensive colleges and universities. From 2006 to 2011, the percentage of nursing graduates from the most inexpensive online schools has decreased. However, the number of graduates has increased by 61,973 graduates per year.
Yearly tuition in the range of $5,235 to $8,500 is charged by other somewhat more costly online BSN colleges. Tuition in this range is charged by 41 of the 185 online colleges offering BSN programs in the country.
A reported 35.1%, or 655,087 of the nation's nursing graduates earned their degrees and certificates from these affordable online programs in 2011. Only 477,465 students graduated from these colleges and universities, a short 5 years earlier, in 2006. This is a 37% increase in the number of students graduating from these reasonably priced online schools.
Read More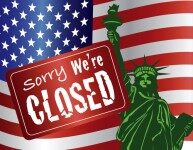 While the shutdown has had little direct effect on students and others in academia, the result of this week's Congressional… Continue Reading
In several studies released over the last couple months, experts have linked overborrowing of student loans with a lack financial… Continue Reading
A scholarship is a good thing, right? You are able to spend more time concentrating on your college studies and… Continue Reading