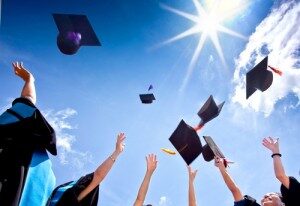 As the global demand for postsecondary skills and knowledge continues to increase, a new report from Lumina Foundation shows that America achieved its largest year-over-year increase in degree attainment since 2008. While the momentum is encouraging, other countries are still outpacing the U.S. in educational achievement, and persistent equity gaps remain that must be addressed through a redesign of America's higher education system.
According to the report, A Stronger Nation through Higher Education, 39.4 percent of working-age Americans (ages 25-64) held a two- or four-year college degree in 2012—the most recent year for which data are available. That figure is up from 2011, when the rate was 38.7 percent, and from 2008, when the rate was 37.9 percent. The 0.7 percent rise from 2011 to 2012 reflects the largest year-over-year increase since 2008.
The latest degree attainment among young adults (ages 25-34) is even more optimistic at 40.9 percent, which is three percentage points higher than 2008. If attainment continues to increase at these levels, and once better data on certificate attainment is factored in, Goal 2025—increasing the percentage of Americans with high-quality degrees and credentials to 60 percent by 2025—is within reach. Maintaining this level of increase in attainment through 2025 is a significant challenge, however, and requires that the U.S. higher education system be redesigned to focus more effectively on students and learning.
The Stronger Nation report shows that big degree attainment gaps continue to exist by race. Asian adults (ages 25-64) lead all races with 59.35 percent degree attainment (up from 59.13 percent) and whites follow with 43.87 percent attainment (up from 43.30 percent). Black adults rank third with 27.62 percent attainment (down from 27.14 percent), Native American adults rank fourth with 23.43 percent (up from 23.07 percent), and Hispanics rank fifth with 19.81 percent attainment (up from 19.31 percent).
More encouraging is the fact that the college-going rate for blacks increased from 62.0 percent to 67.1 percent—an impressive single-year increase. And the college-going rate for Hispanics shot up even more—increasing from 59.7 percent to 66.6 percent. Yet, participation rates still differ significantly based on income. While 82.4 percent of potential students (of all races) in the top third of the income scale enroll in college, only 53.5 percent of those in the bottom third do so.
Despite the positive momentum in the U.S., international comparative data produced by the Organization for Economic Cooperation and Development (OECD) shows the U.S. is still lagging behind its global competitors. America now ranks a disappointing 11th in global postsecondary attainment, but the pace of attainment among younger adults is even more troubling. According to the OECD data, an astounding 64 percent of young adults (ages 25-34) in South Korea have completed education beyond high school. Those rates in Japan and Canada are approaching 60 percent, while young adults in the U.S. are hovering just above 40 percent.
Recent data shows Americans are concerned about the country's low attainment rates and they are ready for leaders to do something about it. The latest Gallup/Lumina poll found that 90 percent of Americans believe it's important to increase the rate of college attainment in America. And 89 percent of Americans report that higher education institutions need to change to better serve the needs of today's students.
The redesign of higher education of America is in its early stages, and leaders at Lumina believe for the effort to be successful and sustainable, it must meet three basic requirements: Base postsecondary credentials, including degrees, on learning; Create smarter pathways for all students; Make higher education accessible and affordable to all who need it.
In an effort to make the results of postsecondary learning more transparent to employers, education institutions and students, Lumina has developed the Degree Qualifications Profile (DQP) which is a common framework for defining the learning outcomes of higher education across all programs, institutions and degrees. That tool, and others including alternatives to the time-based credit hour approach, are a key component of system redesign, according to the Lumina report.