As part of my 75 Tips to Survive a Down Economy post a couple weeks ago I mentioned CashCrate as a legitimate part-time income opportunity.  I received quite a number of questions about the service, and I thought I would address them all here.  It just so happened I received my June earnings check last week, so I am including a copy of the check along with the post to show you what's possible with CashCrate.
What is CashCrate?
CashCrate is a survey hosting site that hosts surveys for a variety of marketing companies.  Members may select surveys to participate in and receive compensation for their time.  CashCrate takes a percentage of the earnings for running their business, but passes the remainder of earnings (up to 75%) on to members.
How Much Money Can You Make?
The amount you may earn is really a function of how much work you put in at CashCrate.  Some members barely earn the minimum payout of $10.00 each month, while others earn over $1,000 (including earnings from referals).  Speaking of referrals, CashCrate has one of the better referral systems out there.  In the interest of full disclosure, the majority of my earnings come from refererrals, but it is possible to earn a decent amount of money each month just by completing surveys.  If you have a blog of your own, adding a CashCrate referral banner or link is a great way to diversify your income.  Here's a look at my earnings from the last six months, and my most recent CashCrate check:
January 2008:  $19.22
February 2008:  $21.10
March 2008: $75.91
April 2008:  $47.05
May 2008: $15.91
June 2008: $203.22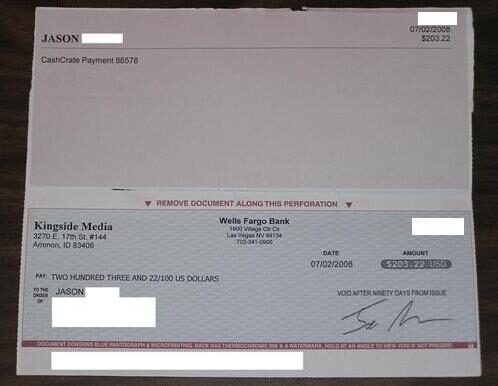 How Do We Use the Earnings?
For the most part we use the earnings check from CashCrate each month to supplement our grocery budget.  I like to cash the check and put it in a "stockpile" envelope.  If our grocery store is having a particularly good sale on meats I'll stock up using the CashCrate earnings and throw a few bags of frozen chicken breasts in the freezer.  This last month was our highest earnings to date, and this time we'll take half of the earnings to make an extra payment on the debt snowball.  Don't forget to account for taxes by holding a little back in savings to pay taxes at the end of the year (we save about 25% of our extra earnings for taxes, but this amount could vary based on your tax bracket, deductions, etc.).
Will My Email Inbox Be Flooded With Spam?
Most offers do require a valid email address, so it is a good idea to create a separate email account to dedicate to CashCrate.  Otherwise, you will receive email from various advertisers at your primary email account.  Remember though, this is not technically spam as you have agreed to receive offers by participating in the survey.  Of course, this has little effect on me because I only check my dedicated CashCrate email account once a month or so.
What's the Fastest Way to Make Money at CashCrate?
The fastest way to earn a $10.00 payout (which can easily be done your first day as a member), is to complete the 100% free offers. From the "Complete Offers" menu select "100% Free" from the "Show:" drop down filter.  These surveys don't pay as much, but they are typically shorter and do not require a credit card or trial-offer agreement to participate.  When I work surveys these are the only ones I complete because I don't like the idea of signing up for things just to earn money.  I'm too forgetful and am likely to forget to cancel the trial offer in the required time.  Stick to 100% free offers and the daily surveys, unless you are feeling adventurous.
If you are interested in signing up for free simply follow one of my referral links sprinkled throughout this article, or click on one of the CashCrate banners around my site.